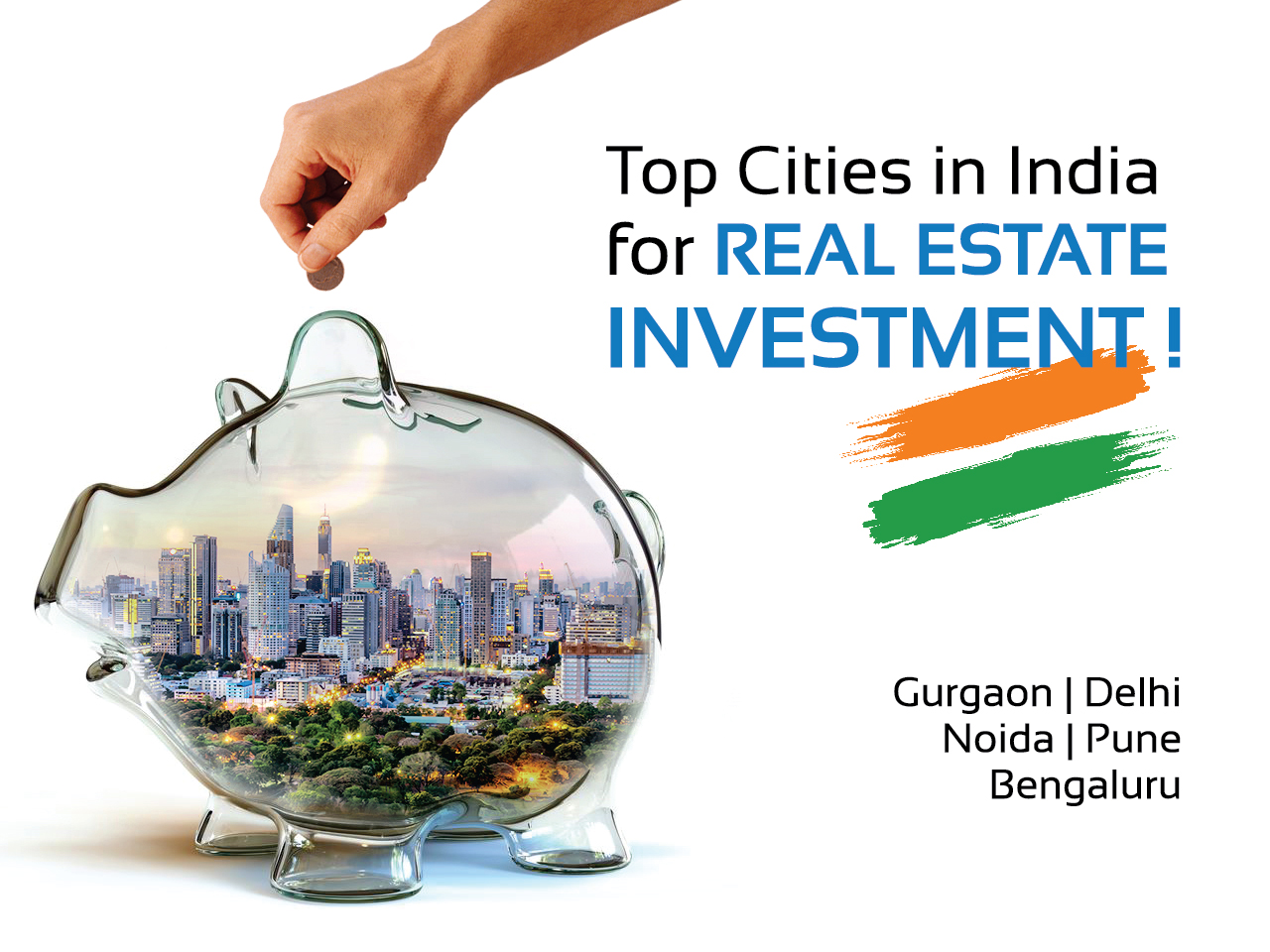 Top Cities In India For Real Estate Investment
The love for a dream home or real estate investment is eternal, especially for the Indians. Real estate investment has been a soft corner for Indian for many decades. In real estate, luxury residential apartments, in particular, has always given maximum returns, beating even other options of real estate investment. This is inevitable even if one buys an apartment using a home loan.
On the other hand, one of the important points to keep in mind here is to make the perfect choice when it comes to location. Here locations with huge growth potential or upcoming regions are the best bet when it comes to the real estate investment. Important decisive factors for any location are connectivity, industrial development, and affordability. So, keeping all this in consideration, we have picked some of the best residential localities in India with a high potential for growth in the end. Interested? Read on.
Gurgaon:- Well with the presence of the huge number of national and multinational companies in the city, Gurgaon real estate is opening diverse avenues. So, here are more job opportunities and in that way more demand for luxury residential property. As well as, the Haryana Government has also been taking steps to make sure there is good public & private infrastructure, better connectivity and government policies attracting investment from first-class builders and institutional investors keen on offering outstanding amenities. These steps have resulted in the city offers an ample amount of affordable as well as luxury housing based on individual needs. The city's culture and lifestyle already match some of the best cities thus offering an aspirational lifestyle to its inhabitants along with the added commercial benefit of seeing price-rise and healthy returns on investments.
Delhi:- Yes, it is true that the real estate market of Delhi has not done very well in the last few years. But there are many regions in Delhi which are doing very well, thanks to the proximity from metro stations. Some of these locations are Moti Nagar, Karol Bagh, and Dwarka, etc. Here you can easily buy luxury residential apartments from reputed real estate developers that are fully loaded with world-class specifications & amenities at a very attractive price. DLF One Midtown in Moti Nagar is the best residential project in New Delhi.
Bengaluru:- Also known as Bangalore is turning out to be the most preferred real estate destination in India. Being the capital of Karnataka, the city has benefitted from the boom in the IT industry. The city has also many IT/ITES and MNC's and hence is also known as Silicon Valley of India.
Bangalore has seen the huge growth in the last few years because of the constant efforts of a pro-active government is noteworthy. Some of the positive factors behind the huge-demand of residential property in Bangalore are:-
Green Space
Pleasant Weather
Good Nightlife
Cosmopolitan Culture
Bangalore has been experiencing a regular increase in the rental and capital values of property over the last few years, just because of the constant demand. Many micro-markets in the city like Indira Nagar, Narasapura, Hennur, Yelahanka, Whitefield stands at the top in Bangalore for home buyers & investors.
Pune:- Yes, it is true that Pune has to experience constant growth almost in every field. But despite this, Pune has managed to be a clean & safe city for the current inhabitants & prospective home buyers. Some of the positive factors behind the huge development of Pune in the last few decades are:-
Proximity from Mumbai (approx 150 km)
The second-largest city in Maharashtra
8th largest urban agglomeration
To maintain the speed with the gearing development, the city has experienced an increase in the housing demand spreading across different income categories and locations, particularly towards the western and eastern edge.
According to the different surveys, Pune has experienced approx 7% growth in its real estate market in the last few years. With several grand infrastructure developments like the Metro, Pune International Airport is a hub for educational institutions and big IT companies, a conventional controlled retail market and proximity with the major micro-markets, the city has been a favorite place for real estate investors. Areas like Hinjawadi, Manjri, etc., are expected to see huge appreciation in the next few years.
Noida:- Now Noida is considered the most promising micro-market in Delhi NCR, and the first preference real estate investors & home buyer.
There are many residential projects in Noida by many well-known real estate developers in the industry. Developers like Godrej Properties, Tata Value Homes, Godrej Properties, Shapoorji Pallonji Real Estate, and many other renowned builders have constructed Ultra-luxurious and luxurious projects in Noida.
Various good things about buying a residential property in Noida are:-
Connectivity
Greenery
Variety of choices
Easy access to necessities
There are many other good things about buying Residential Property in Noida as it will make your life trouble-free than you even expect.