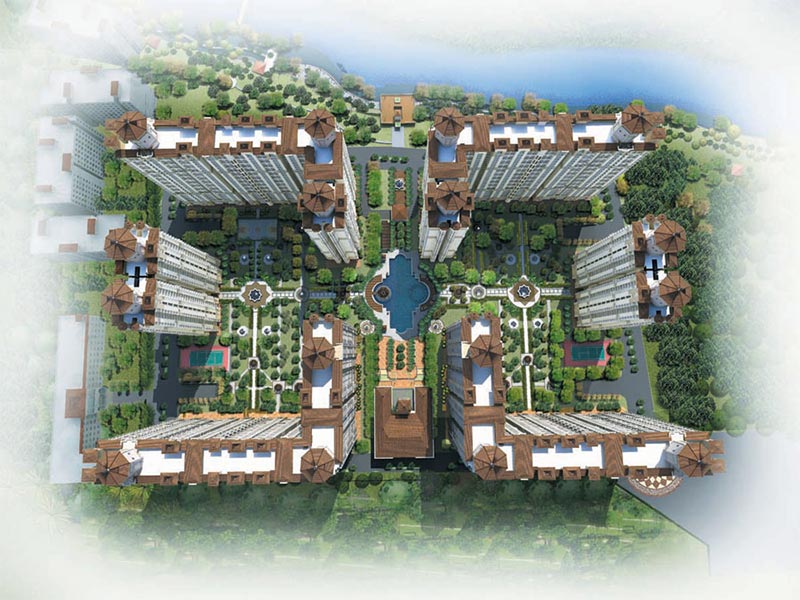 DLF Capital Greens: Experience Greenpeace In A Luxurious Style
Everyone wants to live in an ideal location. But the question that arises in every mind is, What exactly an idea location is? So here I am helping you out with few factors you should consider while choosing the best place to live.
Proximity to Friends and Family
Choose a place from where you don't have to spend all of your vacation time and energy shuttling back and forth to visit friends and family.
Commute Time and Public Transportation Options
Prefer a location from where everything is within reach. Independently you can commute anywhere with availability of public transportation options.
A residence from where your kids doesn't have to travel a lot for a good school and education.
For me, availability of food outlets is a determining factor for choosing where to live, so that I don't have to travel far for having my favorite cuisine.
Shopping and Entertainment
The location should be surrounded by great shopping and movie halls so that you can easily take a break from your hectic schedule.
Availability of nearby hospital is a must as you will not have to rush far away in case of any emergency.
The reality for choosing a new place to live encompasses an incredibly large series of factors, all competing for your attention. In order to be successful in your search, you must determine what is most important to you and your family. But for now you have an ultimate opportunity to own the best located apartment you can wish for in the heart of our magical capital city- Delhi.
DLF Capital Greens New Delhi has got all the luxurious features to cater to your demanding lifestyle. The Project is launched in three phases and commercial tower. It is situated in the most desirable location ever at Shivaji Marg, Moti Nagar.
Key Distances:
New Delhi Railway Station: 8kms
Shadipur Metro Station: 0.5kms
Deen Dayal College: 0.25kms
Gangaram Hospital: 4kms
Connaught Place: 7kms
Indra Gandhi Airport: 21kms
Phase 1
A blend of luxury and green living provides the ultimate urban home, this is what Phase 1 is offering. If you are ready to move, then DLF Capital Greens Phase 1 is exactly what you are looking for. Here 1446 homes are ready for possession and waiting for you to own one.
FEATURES
It is designed to deliver 2BHK, 3BHK, 3BHK+2T and 3BHK+3T options. There is Bright and Airy feel throughout this apartment with spacious rooms and fully integrated kitchen. Each home has bedroom, master bedroom, drawing room, dining room, kitchen, deck, balcony and dedicated parking. This apartment is absolute perfection because of its spacious and contemporary design.
Phase 2
Choose to indulge in one of the most elegant luxury accommodations, DLF Capital Greens has to offer featuring stylish living areas, modular kitchen, lavish bedrooms and palatial design.
FEATURES
The apartments are available in 2, 3 and 4BHK. It is surrounded by more than 100 acres of maintained greens. The acquisition of this magnificent residence affords a marvelous opportunity for the most discerning buyer to acquire a residence of unparalleled luxury.
TOP- NOTCH AMENITIES OF PHASE 1 & PHASE 2
Landscaped parks and playgrounds with jogging tracks
Community space for elderly citizens
Swimming pool with changing rooms
Air conditioned- party room, Gym, restaurant, multi-purpose hall, banquet hall and reading longue.
Phase 3
Modern architecture, Elegant and Classy interior design and state of the art amenities, makes it a residence where sustainability meets functionality, style and endless comfort. This abode is planned by top design team to elevate your lifestyle in every possible way.
FEATURES
This sumptuous project is designed to deliver 4BR+ Servant's accommodation.
The apartment is 3 side open, that gives the home natural cross ventilation throughout the day.
Modular Kitchen, spacious wardrobes and facility of Jacuzzi in master bath.
Double glass units for noise free environment.
VRV and VRF Air Conditioning system.
Multi tiered security and 24 hour power backup.
IMPECCABLE AMENITIES
At DLF Capital Greens Phase 3, you will enjoy an array of amenities. Tranquil setting of steam and sauna, magnificent swimming pool and changing rooms, multi- purpose halls, landscaped parks, playgrounds and jogging tracks are there to bring your fitness at your doorstep.
This Residency offers the opportunity to enjoy the dynamic city life while living in the spacious comfort of a private residential apartment.
DLF TOWER SHIVAJI MARG
Located in one of the most prime commercial locations, DLF tower is spread across 2.2 hectares and the tower is surrounded by 40.4 hectares of greens. Speckles blend of modern and contemporary office and retail spaces at the centre of Delhi makes it the most lucrative offer. The building is fully air-conditioned with 24×7 security. There are 8 floors including the ground floor. Facility of 2 level basement parking with easy drive in and drive out. The ground floor is designed for the retail shops while all the upper floors are high class designed for commercial offices. All of its luxurious amenities make it the most distinctive offer.
As this whole project is situated in the centre of Delhi, nothing is too far from this place. By living here, residents will not have to travel far away for their workplaces, which will help them to save their time and their working hours will also be reduced. Now you know the most ideal location, so you can treasure the pride of owning the most luxurious property in the prime central Delhi.
Also Read:- Guide To Pay Property Tax Online In Delhi 2021-22