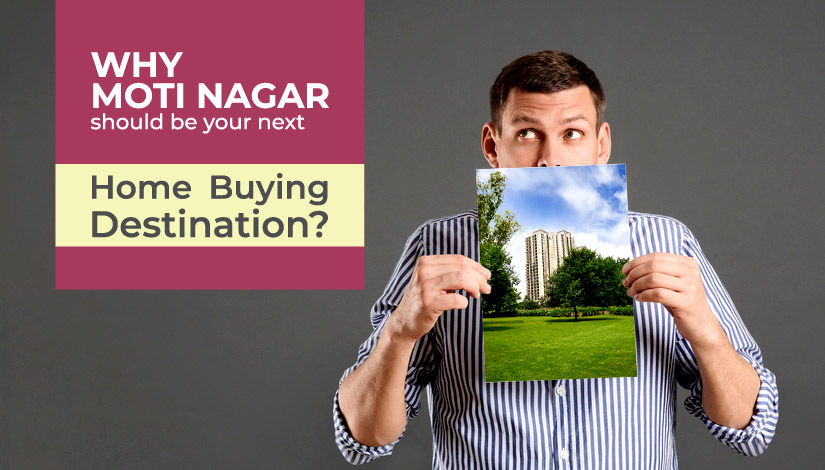 Here Is Why Moti Nagar Should Be Your Next Home Buying Destination?
Owning property these days has become quite essential and for that, aspiring home buyers do a lot of plan before buying property. Searches have found that the demands of homes are quite escalating among home seekers and a clear data has shown that major home buyers requiring to have their own space to get rid of the rent amount which they pay every year.
They don't find it wise to pay each year rental amount, instead of this they want to invest that money in buying their own home.
Hence, buying a property is a more lasting solution to get rid of such kind of bondage that one pay every year so if you are considering buying a property and quite perplexed about the location then you can consider Moti Nagar, New Delhi region which is quite famous for your all kind of need.
So here are some reasons why investing in Moti Nagar is a good idea
Close to commercial Hubs
Moti Nagar is strategically located near major malls like Moments malls CTC mall and West Gate Mall. Additionally, the area has brand automobile showrooms such as Jaguar, FIAT, Tata Motors, BMW and so on. The presence of such a known brand in the locality indicates it a hub of the commercial zone.
Educational institutions
Giving a proper education to children is always be the biggest priorities for any parents and if you are quite doubtful about the educational facilities or services in this locality then be assured because here you can have a list of schools such as S D Public school, S B Mills Senior Secondary schools, Guru Nanak Public Schools, etc. All are in the vicinity and within a reachable distance.
Close to several recreational facilities
Socialization is an important part of anyone's life, staying in a location close to several recreational facilities is always prime for the home seekers. Here in Moti Nagar, you can have a large number of pleasantries, that too in reachable distance. The domain has many movie theatres and impressive shopping destinations that will touch you definitely.
Easy accessibility
Moi Nagar is situated in Central Delhi, where 3 metro stations such as Moti Nagar, Kirti Nagar and Sat Guru Ram Singh Marg metro stations are confluence in one place which offers hassle-free travel even in the peak hours. Other than this, here you can easily get Ola & Uber service to go anywhere.
Industrial Hub
Moti Nagar is a developed area and known as an industrial hub and center of employment opportunities. Here you can find various industries and live close to the workplace is better than above all. Also, you are a capitalist and seeking a productive hub that will boost your business then this is the best address in Delhi with absolute advantages.
So, from all perspectives buying a home close to all conveniences will end in the Moti Nagar location which is a favourable address and if you are seeking property in this location then DLF Midtown is now the best address.