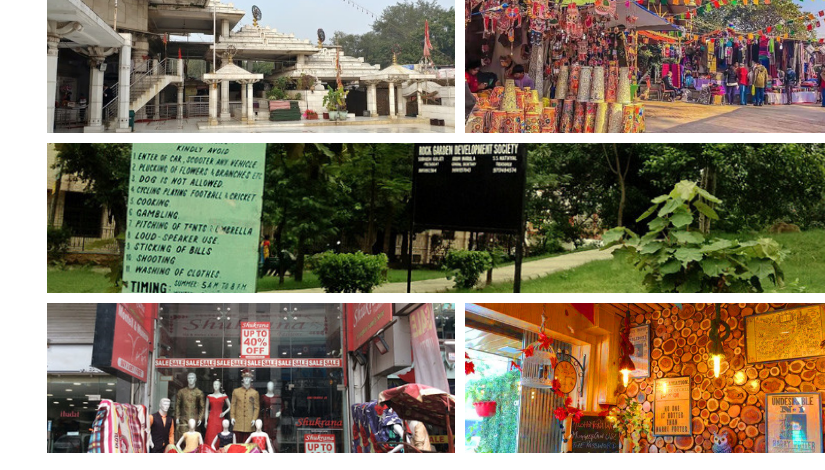 Popular Tourist Attractions & Places To Visit In West Delhi
What do you do generally on the weekend?
Some would say, they spend time reading books (book worms), some would say they simply stay at home and enjoys watching TV, some would say they like to hang out with friends and family, some would say they love to do shopping.
Isn't it?
In anyhow we spend our weekend. The way may be different but we enjoy on weekend. I love to hang out with my brother, we both enjoy exploring new places and as our taste matches, and we go shopping, taste new dishes (food lover) and do a lot of funny things together.
As we siblings are living in Delhi, we enjoy each moment and our target is to explore each place and make memories. So, we've decided to explore the city by region because the city is very big and it can't possible to explore each place without planning.
Places in West Delhi
As we live in West Delhi, it was better for us to explore the place which is nearer to me rather than sprightly go for the farthest place. So here I'm sharing some tourist places in west delhi which I've discovered and got some surprising things.
Tourist Places In West Delhi - Let Me Give You A Small Intro
West Delhi is 11 administrative districts of the National Capital Territory of Delhi and divided into 3 subdivisions such as Patel Nagar, Rajouri Garden and Punjabi Bagh. The place is quite famous for food both among the locals as well as the tourists coming to Delhi. The region is also famous for shopping destinations, not only here you will get everything close to you wish but also get the chance to explore the area in a new way every time.
Places to Visit in West Delhi
1. Jhandewalan Temple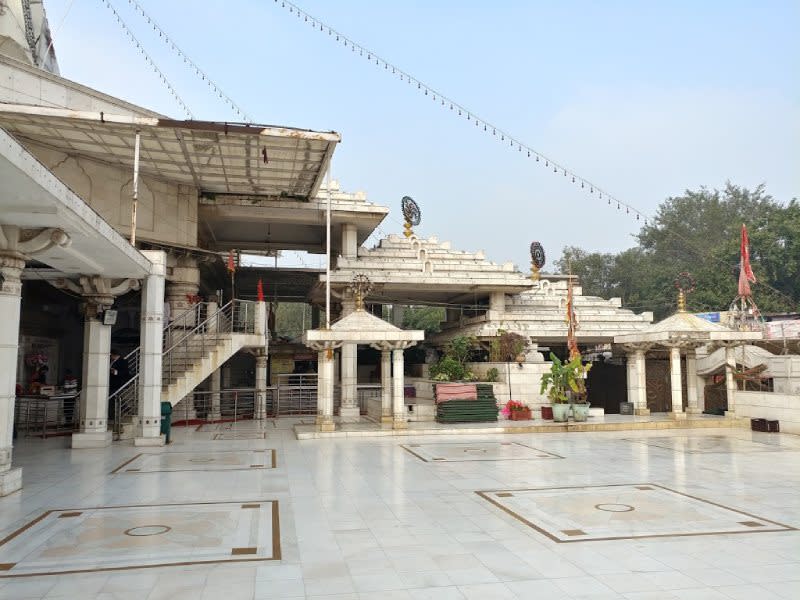 It's an ancient Hindu Temple dedicated to Maa Aadi Shakti and receives a large number of devotees all thought out the year. The place is the major center of attraction and every year receives higher footfalls.
HOW TO REACH?
One needs to get down at the Jhandewalan Metro Station which is on the Blue Line. The temple is located at 5-10 minutes of walking distance.
2. Dilli Haat Janakpuri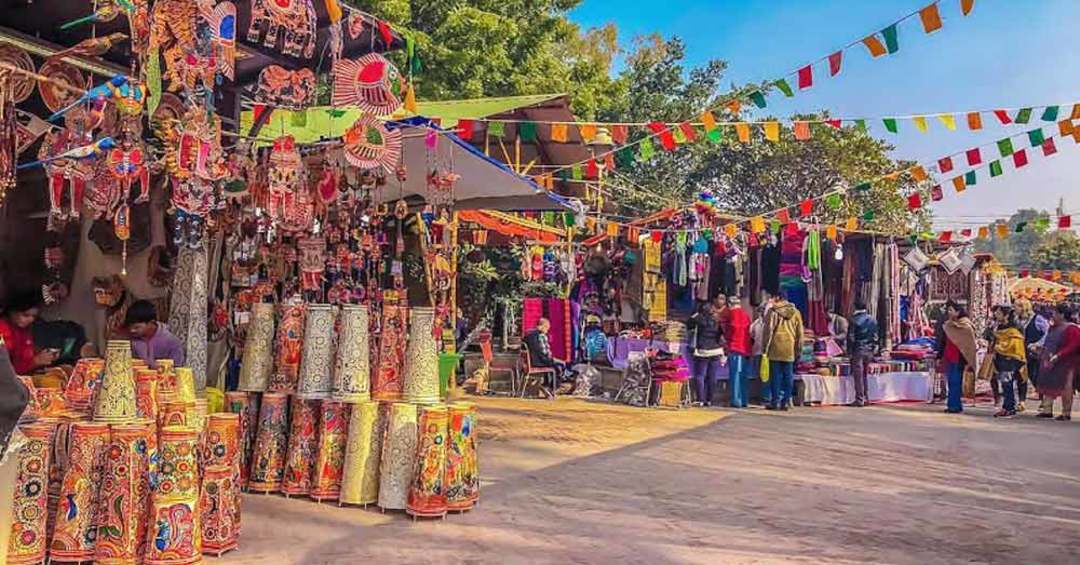 Dilli Haat in Janakpuri is another top attraction, the place is known for shoppers' paradise, which showcases the county's craft and cultural tradition and is a one-stop -destination for craft, music and food lovers.
METRO STATION NEARBY
For Dilli Haat Janakpuri, Janak Puri West on Blue Line and Magenta Line and Tilak Nagar Metro station on Blue Line is the nearest metro station
3. Rock Garden, Patel Nagar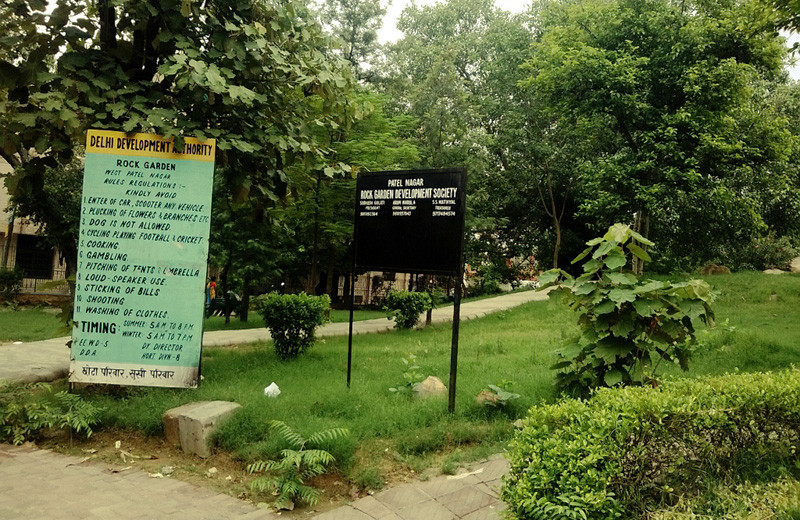 It's a hidden oasis in the city. As you enter the park you will be amazed by the explosion of greenery which gives a fresh feeling, it is said that the park is a boon for this area which struggling to breathe. In a nutshell, you can call it the oxygen plant of the region.
HOW TO REACH?
Travelers have to deboard at Patel Nagar metro station to reach Rock Garden as it is located just 1.2 km away. The metro station falls on the Blue Line of Delhi Metro.
4. Tilak Nagar Market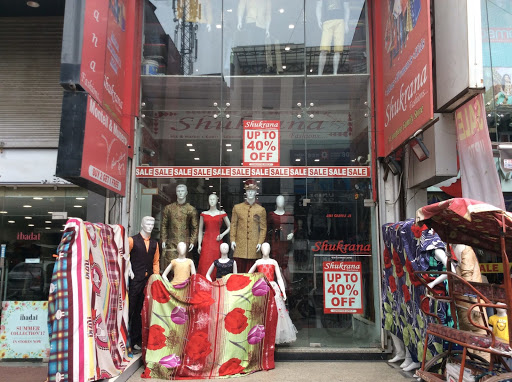 The area is quite popular for its market; here you will get a wide variety of products such as clothing and consumer durables items. Tilak Nagar Market is famous for Punjabi marriage rituals items like Chura, Lawan Suit, Pagri, Kangana and currency garland, etc.
HOW TO REACH?
For Tilak Nagar Market, Tilak Nagar metro station on Blue Line is the nearest metro station. You can use the DTC (Delhi Transportation Service) bus services too.
5. The Hogwarts Café, Rohini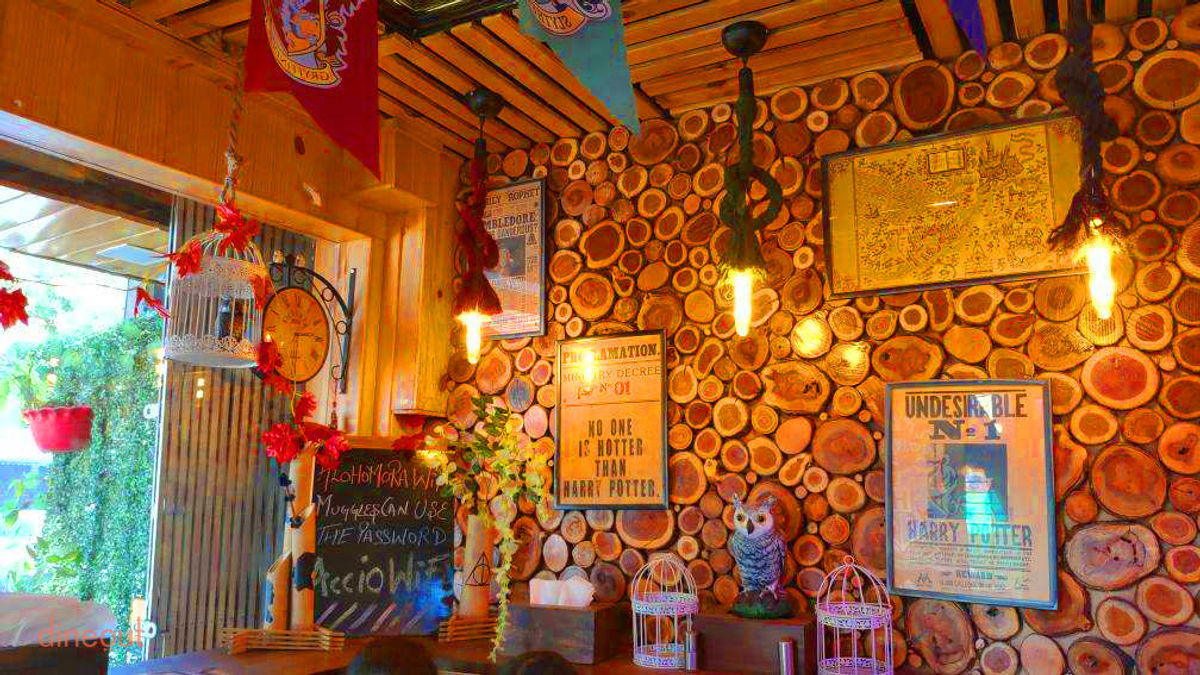 It is one of the favorite places amongst potter heads of Delhi. The Café is entirely dedicated to and themed around Harry Potter, from the dishes to décor it has received. So if you've not visited the café yet then make a plan and order up Wizard's Bread, Sirius Black Brownie Shake, Bellatrix Burgers and more!
HOW TO REACH?
The café is located in sector 3, Rohini. You can reach the place via blue line and violet line. Also, you can easily get to the place by DTC bus services too.
6. Bhuli Bhatiyari Ka Mahal, Karol Bagh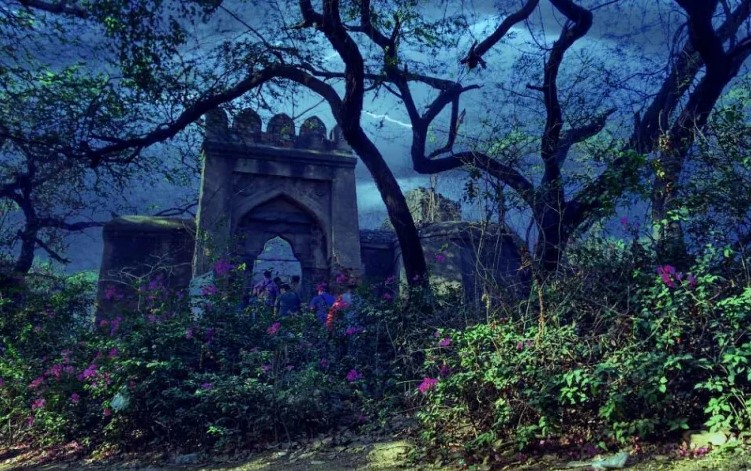 This is the most famous destination in Delhi and is known as a haunted place. Bhuli Bhatiryari ka Mahal's history is quite interesting. The story made up by local people that a queen died inside this Mahal around 600 years ago and her ghost is seen here in the middle of the night. Other says that a man named Boo Ali Bahktiyari ruled here and the place is named after him which later people modified as Bhuli Bhatiyari.
If you wish to pay a visit to this ancient haunted place then surely you can explore it in the daytime. After dusk, the Mahal is really turned into creep and rarely one would dare to step inside the place at night, you never know what will you face at the dark hour..
HOW TO REACH?
Bhuli Bhatiyari is located close to Karol Bagh and you can reach this place via Karol Bagh Metro Station (Blue line), which takes nearly 4 min. You can easily reach the places via DTC bus services.
7. Kartoon Café, Janakpuri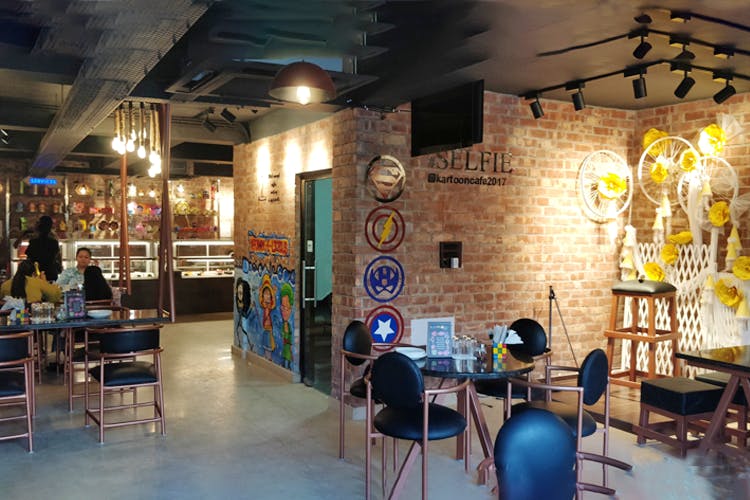 Get ready to treat your taste buds with various delectable dishes at Kartoon Café. A café that is designed with a cartoon theme, located in Janakpuri, West Delhi. Here, you can explore world-class cuisine. As the café serves North Indian, Chinese and Fast Food with artisanal coffees with mouthwatering desserts. You can enjoy a musical ambiance in this café as it hosts live music with an audio station and selfie corner.
The Iron Man Eats Lamb Burger and Bageera's fiery Non-Veg Platter these two dishes can make you more starve. This is the quite best place for kids, so whether you are organizing a party for your kids then must treat them with Slurpy Veg Burger, Smurfette Lemongrass and Chilli Dimsums, Cinderella fresh ginger ale, oreo doughnut shake.
HOW TO REACH?
This famous café is located close to Bharti College, Janakpuri. The easy way to reach Kartoon café is via the Blue line and Magenta line.
8. Mini Qutub Minar, Uttam Nagar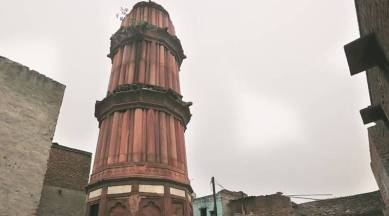 Built by Mughal emperor Shah Jahan in 1650. This Mini Qutub Minar is another ancient minaret that is a miniature version of Qutub Minar. Located in Hastsal Village in Uttam Nagar, Delhi which is originally named Hastsal ki laat. The place is a royal hunting lodge of Shah Jahan. It is believed that the minaret was about five storeys high. its height is just 16.87 meters and only three storeys left.
HOW TO REACH?
Uttam Nagar metro station is the nearest metro station close to this ancient place.
9. Sulabh International Museum Of Toilets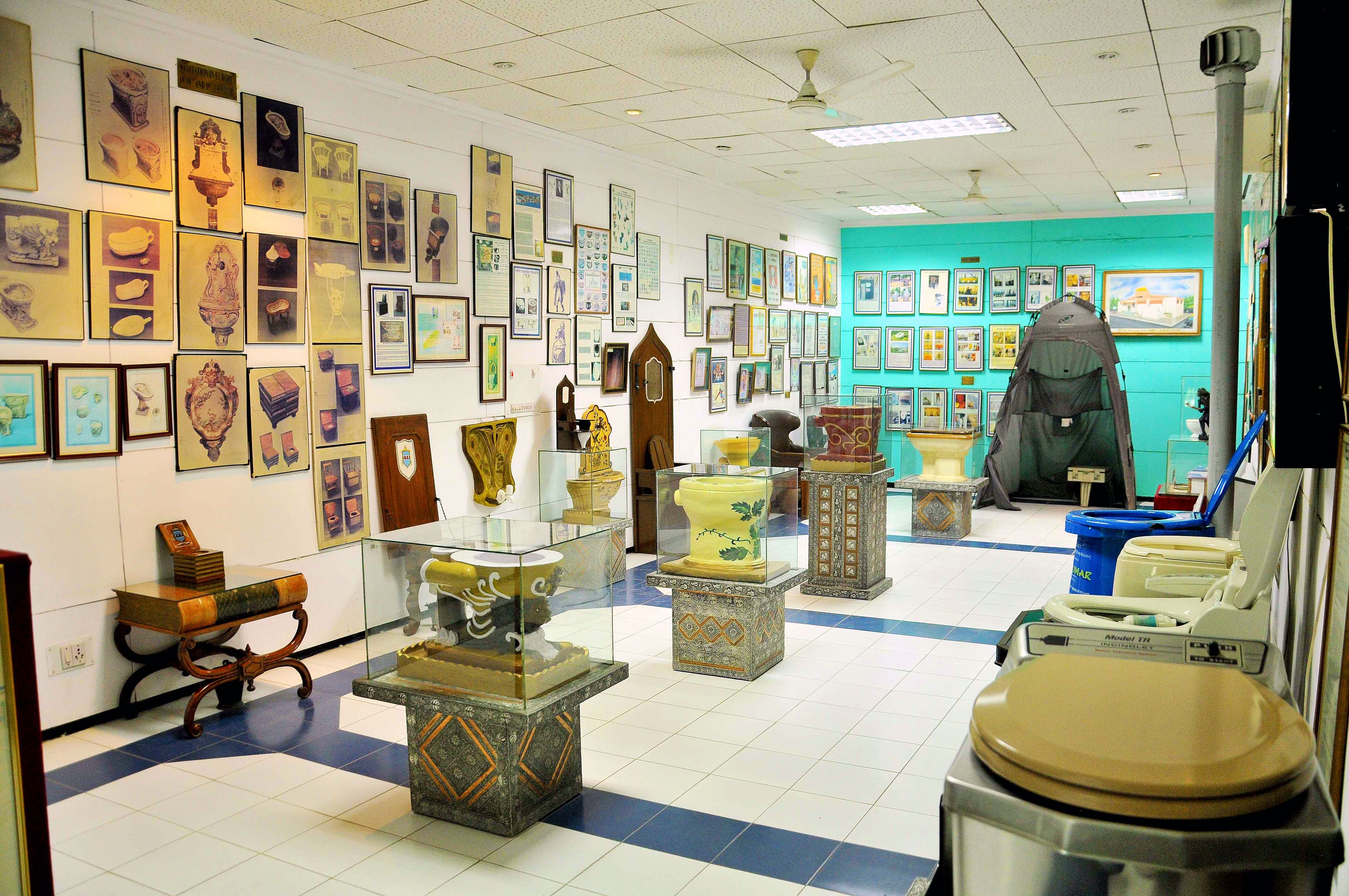 Sulabh International Museum of toilet is established in the year 1992 by DR. Bindeswar Pathak. He was a former social activist and social reform movement. The idea of establishing this toilet museum was to highlight the need for the sanitation sector in the country (Specifically to educate sanitation the poor people who are living in the slum area). This museum has the evidence of historic evolution of toilets from 2500 BC to date. Further, the museum has many facts, pictures, objects and details which were related to the evolution period.
HOW TO REACH?
From Dasrathpuri Metro station it hardly takes 20 minutes to walk. Another nearest metro station is Palam, which takes 35 minutes to reach.
Moreover, you can find chronological evidence related to this such as technology, some social customs, toilet etiquette, and prevailing sanitary.
10. Bharat Darshan Park SDMC
Bharat Darshan Park by SDMC (South Delhi Municipal Corporation) is the best visiting place in Punjabi Bagh, Delhi. Spread over 8.5 acres it is uniquely designed by the use of waste materials. Here, your eyes will glimpse the replica of 21 monuments such as:-
Qutub Minar
Char Minar
Gateway of India
TajMahal
Konark Temple
Mysore Palace
Victorial Memorial
Hawa Mahal
Khajuraho Temple
Nalanda University
Dwarkadhish
Ajanta
Ellora Caves
Sanchi Stup
Humpy
Jagannath Temple (Puri )
Meenakshi Temple
Rameshwaram
HOW TO REACH?
You can commute to the park via Punjabi Bagh West Metro Station (Green Line).
11. Jheel Park, Karol Bagh
This is the most beautiful park located at Prasad Nagar, Karol Bagh, Delhi. You can view the best scenery as well as experience the best ambiance in this park. This is the best place whenever you wish to unwind yourself.
HOW TO REACH?
You can easily reach out to the place via Blue line. Karol Bagh, Patel Nagar, and Rajendra Place are the nearest metro stations to this park. Also, you can discover this park via the DTC bus service.
12. Bindra Park, Rajouri Garden
If you really enjoy verdant space then discover Bindra Park and Rojaori Garden. Beautifully adorned with various types of flower gardens and divided into different sections. The park welcomes you with tall palm trees and has planted with uncountable trees. Its vast area is enveloped with tranquility. For kid's here it has a play section where they can play.
Moreover, you will enjoy birds chirping and the best evening view amidst lights gives a quite calming vibe. This park is for all kinds of people, you can unwind yourself and mend your mind body as well as a soul at any hour of the day time.
HOW TO REACH?
Rajouri Garden Metro Station (Blue Line) is the nearest metro station to Bindra Park. Also, you can travel via the DTC bus service.
13. ISKCON Temple Punjabi Bagh
ISKON Temple ( International Society for Krishna Consciousness) located in Punjabi Bagh is another visiting place in West Delhi. Alternatively, known as Sri Sri Radhikaraman-Krishna Balaram Mandir and Vedic Educational Center.
The ISKON Temple at Punjabi Bagh is a community of 1000 families. The temple's core values are compassion, truthfulness, cleanliness and Austerity which provides an adventurous spiritual path. Mostly, the temple teaches about Sri Krishna as given in Bhagavat Gita and Srimad Bhagavatam. The temple's aim is to spread spiritual education to all sections of society.
HOW TO REACH?
Punjabi Bagh is the nearest Metro Station.
14. Rajouri Garden Market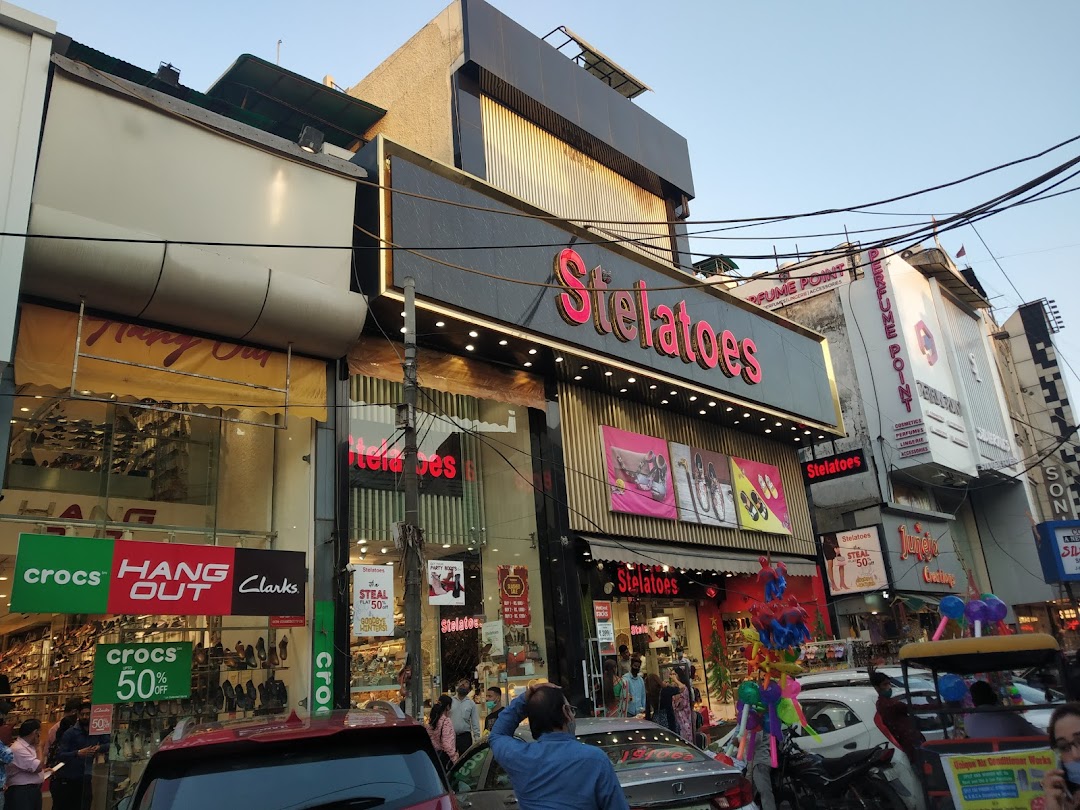 For shoppers, Rajouri Garden is a paradise, where they can discover various shopping stuff. The market is quite famous for the wedding market. Where you can get the best wedding accessories in various designs. Moreover, you will get craft items, jewelry sets, footwear items and so on. Rajouri Garden is popularly known for street food, terracotta stores, and malls where you can definitely find your taste. In a nutshell, Rajouri Garden is the one-stop- destination for all your requirements.
HOW TO REACH?
To commute to this place you can take Rajouri Garden metro station which is Nearest to the market.
Altogether, planning a hang out with friends is not that a bad idea when you are in Delhi. And if you are the kind of person who likes to adventure then check out the most visited tourist places in West Delhi. Surely, the place will amaze you with its terrific history and mind-blowing leisure spots.
West Delhi tourist places are always attracting more visitors for carrying the best kind of exciting activities.